"Pop" Reagan is Bicen "Builder" in Big Spring
The following story by me appeared in the Sunday, Nov. 16, 1975, issue of the Big Spring Herald. It was based on a taped conversation I had with him shortly before that time. Somewhere I still have that tape. We were all looking for anything with a Bicentennial angle since it was coming up the next year.
The story isn't very well-written, and since it's writing we now know it was William, not Wiley, but it has some fascinating insights by "Pop" on his family, his family's history and how instrumental he was (though he wouldn't admit it), in building early Big Spring. Also, the pictures were lost by the Herald just a couple of days after the story ran 25 years ago, so I had to scan in the yellowed newspaper clipping for this page.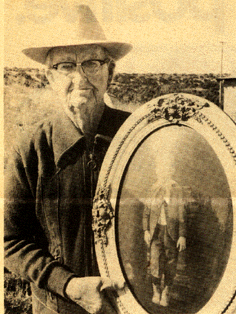 Pop" is a bicentennial bonanza.
Besides being one of the area's earliest residents, he has connections all the way back to the Washingtons of Virginia.
B.A. (Pop) Reagan will celebrate his 90th birthday in the Bicentennial year of 1976, and if the present pattern holds, for years to come he'll be busy pursuing one of his many hobbies, including his latest infatuation -- astronomy.
He was born in a small one-room house that, if it were still standing today, would be across the street from the present-day police station -- a location that housed a dug-out tent structure where his parents first lived when they came to Big Spring. (In 1881 when his parents arrived, there were no houses to be had.)
The family soon moved to a location on 3rd street across from the present-day City Hall. "Pop," (what his family has called him for 60 years), recalls, "We kept having trouble with coyotes stealing our chickens, and skunks getting under the house and stinking it up."
Most of "Pop's" other relatives are not nearly so illustrious, but are worthy of mention. "Pop's" grandfather on his mother's side was Capt. Wells, a sea-captain who sailed the Caribbean in the early 1830s. "Pop's" father was Wiley Andrew Reagan (his nickname was "War"), who joined the Confederacy at the age of 15, just long enough to receive a mini-ball "the size of your thumb" in his left hip which left a scar for the rest of his life. This may have been a reason or excuse for tippling a bit. "He got half tooted-up every now and then," "Pop" recalls. CONTINUED >